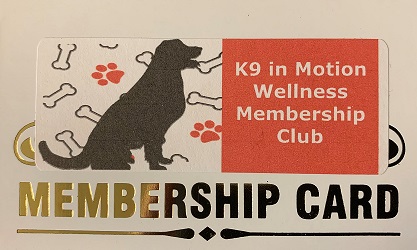 K9 IN MOTION WELLNESS NEW MEMBERSHIP CLUB
JOIN TODAY. IT'S FREE!
K9 in Motion Wellness

Membership Club
K9 in Motion Wellness has replaced our Loyalty Points system for our clients effective May 01st, 2021. We have introduced our new Membership Club. Members can receive discounts/savings on products and services, as well as on workshops. Clients must produce their membership card at time of visit. Cards can only be used by the pet owner listed on the account and/or their spouse. One card will be issued per client, and cannot be used by other members of the family unless authorized by the owner of K9 in Motion.