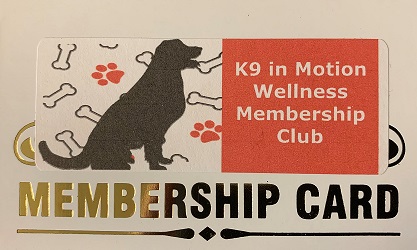 K9 IN MOTION WELLNESS NEW MEMBERSHIP CLUB
JOIN TODAY. IT'S FREE!
K9 in Motion Wellness

Membership Club
K9 in Motion Wellness has replaced our Loyalty Points system for our clients effective May 01st, 2021. We have introduced our new FREE Membership Club. Members can receive discounts/savings on products and services. Join/Register by visiting our FB group page K9 in Motion Members .